Sunday, March 31, 2019
9:30 am - 12:30 pm
9:30 a.m. Cereal, 11:15 a.m. Oyen,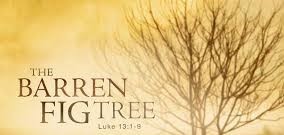 We're more than halfway through Lent already! This Fourth Sunday of Lent asks us what we are waiting for. We consider that with God beside us, we can endure challenges of life. We consider how God cares for us, even when we are impatient. God nurtures us and give us strength... in God's time not our time.
1 Corinthians 10:1-13 God will not let you be tested beyond your strength.
Luke 13:1-9. The parable of the barren fig tree.